U.S. Political Actors Drive Core Disinformation Narratives
Official Russian state accounts exert influence amidst politically charged polarization
Constella's team of intelligence analysts created a custom, proprietary dashboard available through our Dome Platform, visualizing selected dimensions of the digital public conversation related to the Ukraine crisis to identify fast-moving global trends emerging from the online debate and to better understand the narratives and critical players driving the digital conversation. Each week, Constella Intelligence will share notable findings from its dashboard on the Constella Intelligence blog. Below are key insights from June 7th to June 13th, 2022 from the digital public conversation related to Ukraine. Over the period analyzed, the dashboard captured 6,090,773 results from 1,262,031 users interacting in English.
KEY INSIGHTS – JUNE 7TH TO 13TH, 2022
3 major blocs of criticisms and discontent emerge. Russian state media and official Russian embassy accounts are highly influential in one community, while American conservative political figures spread unsubstantiated allegations and conspiracy theories in another.
3 core communities emerge, expressing criticisms and negative sentiment. These communities make up nearly 1/3 of users engaging in the overall debate:
US Discontent (13.2% of users)
International Discontent (10.9% of users)
UK Discontent (7.1% of users)
The U.S. Discontent community is primarily driven by conservative American political figures that distribute a wide range of alt-media content. Key actors include Donald Trump Jr., political influencer Kimberly Guilfoile, Congresswoman Lauren Boebert, former Trump aide Stephen Miller, political influencer Charlie Kirk, conservative media commentator Ben Shapiro, and others. Among the most widely shared domains in this community are alt-media sites including Zero Hedge, The Epoch Times, The Gateway Pundit, Rebel News, and WeLoveTrump.com. Recurring narratives promoted by several of these actors include allegations of corruption against Democrat public officials like Hillary Clinton, Barack Obama, and Joe Biden as well as the Ukraine bio-labs conspiracy theory.
In the second-largest community driving negative/critical sentiment in the debate, Russian state media, Russia Today (RT), and the official account of the Russian embassy in the U.K. are among the most relevant profiles. Narratives in this community mix historical-political critcisms against NATO and the U.S. along with more blatant conspiracy theories, such as the Ukraine bio-labs allegations. Claims of Nazi influence and anti-democratic governance in Ukraine persist. The third-largest community driving discontent is targeted towards economic and political issues in the U.K.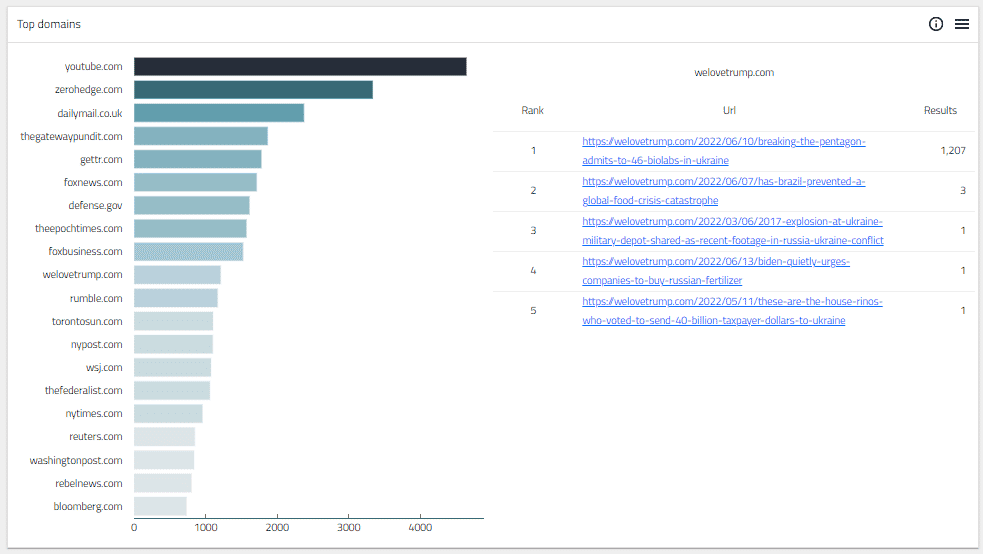 Director, Risk Intelligence
COMMUNITIES DETECTED – JUNE 7TH TO 13TH, 2022

1. Ukraine Support (18.8% of users): Community led by journalists, geopolitical experts and academics geolocated in Ukraine. Users argue that the reasons for Putin's invasion are focused on territorial expansion within a historical context, not only related to NATO. Messages of support for the Ukrainian people are also present.
Eastern European media report on the photo shoot of school graduates between the ruins of Chernihiv and Kharkiv as well as the revocation of Russia's recognition of Lithuania's Declaration of Independence from the USSR, canceling the decree that recognized the founding of Moscow in 1147. Military accounts disseminate first-person images of fighter jets assisting Ukraine and report on the destruction of Russian weaponry by the Ukrainian military.
2. US Support (14.2% of users):
Community led by independent Ukrainian journalists and American academics criticizing Putin's border expansion strategy. They note challenges of access to food and raw materials as a result of the war, especially in developing or underdeveloped countries. Also, several U.S. Republican politicians are questioned for former meetings with individuals from Putin's inner circle.
3. US Discontent (13.2% of users): Community led by Republican political figures such as Donald Trump Jr., Congresswoman Lauren Boebert and Senator Michael Rulli, among others. Influential messages criticize the Biden administration, holding them responsible for inflation and high gas prices while also questioning Biden's handling of the Ukraine conflict. The influence of alt-media domains in this community is notable.
 
4. International Discontent (10.9% of users): Community led by journalists, communicators and independent opinion leaders. Russian state media (RT) and the official account of the U.K. Russian embassy are among the most influential profiles in this community. Messages question the US government for the alleged management of bio-laboratories in Ukraine as well as for the bombing of Yugolasvia by NATO, in a US-led operation. Criticism of Ukraine for the Nazi militias present in the country is also emerging. Users also question that the Ukrainian Court has banned the largest opposition party, allegedly not respecting democracy.
 
5. U.K. Discontent (7.1% of users): U.K. community where the refugee reception policies of Boris Johnson's administration are questioned. Several reports, including one from the OECD, predict slow economic growth for the United Kingdom and spark criticisms of the administration's management of the economy. Criticism of the Conservative party is emerging following reports of donations from Russia since the armed conflict in Ukraine began.
 
6. International Media (5.1% of users): WWE media company and international media echo the meeting between the actor and member of the WWE, John Cena, with a Ukrainian refugee who suffers from a disability, motivated by his mother to leave Mariupol with the aim of meeting Cena. Other news of interest include an article about a teenager who has helped Ukraine with his drone and another article about the alleged order in Russian schools of "patriotic" classes firing teachers.
7. Pakistan Community (3.6% of users): Community led by Pakistani citizens who denounce the media silence related to the Israel-Palestine conflict , Chinese treatment of Uyghur minorities, and anti-Muslim feelings in India , compared to media coverage of the conflict in Ukraine. Criticism also stems from the Indian president for covering up alleged bribes to the Indian Ministry of Defense from Ukraine. Comments calling for respect for Pakistan's decision to continue buying crude oil from Russia as well as Putin's statements, shared from the Account of the Russian Foreign Ministry, on the two options for a country: sovereignty or colonization, are also distributed widely.
APPENDIX – JUNE 7TH TO 13TH, 2022

In the first iteration of this dashboard, we captured results related to the following 3 dimensions: Countries, Key Figures, Themes
Selected countries currently in the dashboard include: The United States, Ukraine, Russia, China, Poland, Belarus.
Selected Key Figures currently in the dashboard include: Vladimir Putin, Volodymyr Zelensky, Joe Biden, Boris Johnson, Ursula Von der Leyen, Josep Borrell, Xi Jinping, Olaf Scholz. Any mentions to these key figures are captured in the dashboard and can be visualized across multiple dimensions of analysis.
Selected themes currently in the dashboard include: Ukraine Citizens Impact, Economy, Cyberattacks, Migration Movements
Interested in seeing our Ukraine dashboard in action?
Request a demo
with one of our geopolitical intelligence experts.
Constella's Ukraine dashboard - Communities Module Preview
To see our full dashboard in action, Request a Demo with one of our geopolitical intelligence experts.